01: Moore Reef | Departs Cairns on Catamaran, Returns to Cairns on Catamaran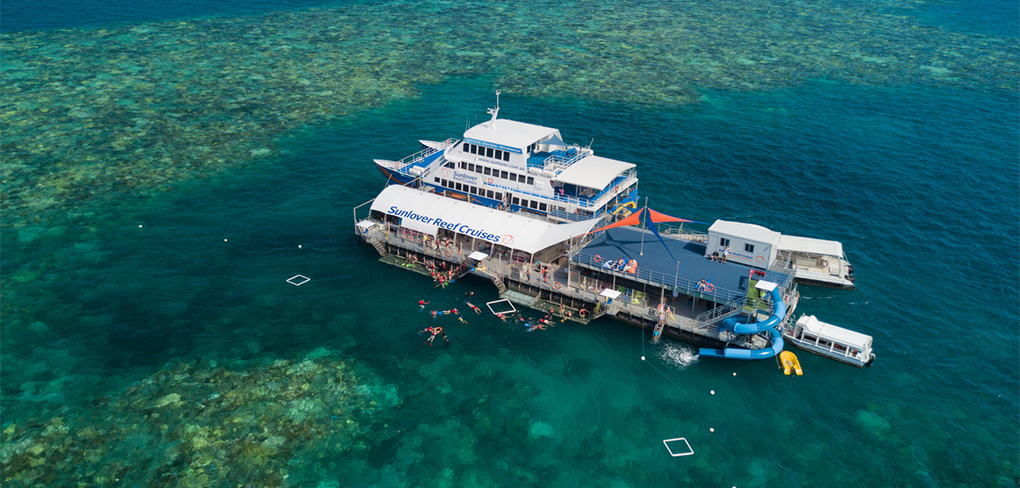 Duration: 8 Hours
Location: Cairns, QLD
This tour departs and returns to Cairns on our Catamaran.
8.15-9.00am - Check In at the Reef Fleet Terminal
8.45-9.15am - Board the Sunlover Catamaran
9.30am - Catamaran Departs
10.15am - Stop at Fitzroy Island for drop offs/pick ups
11.30am - Arrive at Moore Reef Pontoon
12.00-1.30pm - Lunch served on board the Catamaran
3.30pm - Depart Moore Reef Pontoon
4.15pm - Stop at Fitzroy Island for drop offs/pick ups
5.30pm - Return to Cairns Marina.
Our marine biologists, dive instructors, qualified lifeguards and cruise attendants have only one goal: to share their passion for the Great Barrier Reef and ensure you make memories that will last a lifetime.

With a range of included activities and exclusive use of our custom-designed floating pontoon, all ages and abilities can explore and enjoy the wonders of the Great Barrier Reef. With clear water, colourful coral, abundant fish life and friendly resident turtles and Maori wrasse, Moore Reef is the ultimate destination to experience all that the outer reef has to offer.
Swimmers of all abilities can snorkel in the natural
lagoon or stay dry with our semi-submersible and glass bottom
boat tours. You can also visit our underwater observatory to discover
the world's most impressive natural fish tank and get up close and personal
with marine life in our touch tank presentations. Young kids can have fun
in our enclosed ocean pool or swirl down Sunlover's 30-metre spiralling waterslide into
the tropical ocean. A trained lifeguard is always on watch from an elevated
lifeguard station, and there's easy entry to the water from two snorkel
platforms, both of which are accessible by stairs.
For those who want even more adventure, you can add to your reef
tour with a guided-snorkel tour, Seawalker helmet dive, introductory
and certified SCUBA dives or take to the sky for a scenic
helicopter flight.